Shanghai De¡¯An Certified Public Accountants was established in October 2002 by several founders, combined with other experts in finance, tax, law and HR. They used to be the partners and senior managers from Audit, Tax and Business Advisory Division of ¡°Big Four¡±. They have accumulated wealthy working experience and absorbed valuable know-how about management of professional practice and development of upper-level services during the years with ¡°Big Four¡±.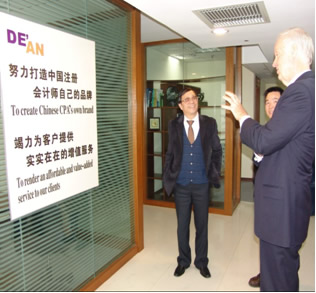 Through efficient and deliberate coordination, our professional team provides services in respect of audit, capital verification, tax, financial consulting and business consulting (including corporate restructuring, merge and acquisition, separation, liquidation, etc.). Our clients mainly consist of foreign-invested enterprises (FIE), multinational corporations (MNC) and representative offices of foreign enterprises, covering sectors of international trade, global logistics, manufacturing, professional services, banking, real estate development and others. By now, we have rendered a wide range of services to clients of various sectors and different scale. Additionally, by means of conveying professional information through issuing monthly newsletter Investment and Tax and other ways, we offer clients the promulgation of the newest policies and rules, so as to help them respond actively with the change of macro environment.
Our firm builds good relationship and smooth communication channels with various government authorities, such as Tax Bureau, Foreign Investment Committee, Shanghai Securities Exchange, Administration of Industry and Commerce, Administrative Bureau of Foreign Exchange, the Custom and etc. We have the ability to provide our client various pragmatic solutions as well as the implementations.
We fully pay attention to the substantial value of service provided to the clients. We pursue to amalgamate our professional knowledge database, working experience and resource into your business/profit growing period and to be loyal partner in your business development.